Asus Vivobook Pro N752 series (N752VX) review – 17-inch laptop for professionals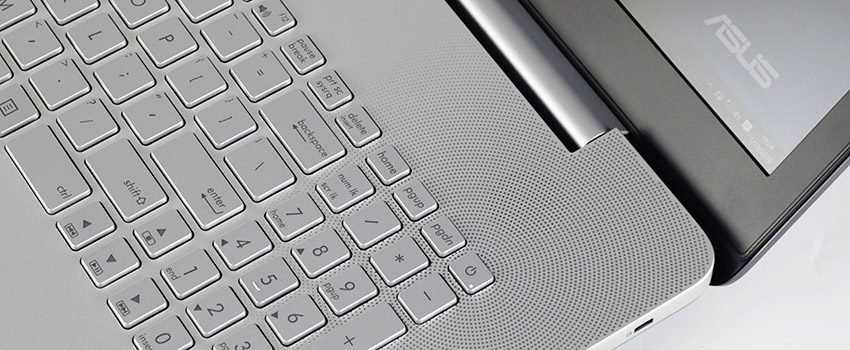 Asus took their sweet time updating the N Series of multimedia laptops to Skylake hardware, but they finally did it and in this post we're going to talk about the 17-inch model in the line, the Asus Vivobook Pro N752VX.
This laptop builds on its predecessors, the N750 and N751, and while it looks mostly the same on the outside, plenty of changes hide beneath the surface: an Intel quad-core Skylake platform paired with DDR4 memory, an Nvidia GTX 950M graphics chip, multiple storage options, including support for NVMe drives, plus a splendid UHD display.
An N752VW model might also be available in some parts of the world, identical to the N752VX, but paired with Nvidia 960M graphics.
The high end configurations aren't cheap, but they are great solutions for professionals looking for a well built multimedia notebook with a high-density and color-accurate screen. The lower-end models on the other hand are fairly affordable, starting at around $1100.
Stick with me through this post you'll find out if the N752s are worth your hard earned buck or not.
The specs sheet
Asus Vivobook Pro N752VX
Screen
17.3 inch, 3840 x 2160 px resolution, matte, IPS, non-touch
Processor
Intel Skylake Core i7-6700HQ CPU, quad-core 2.6 GHz (3.5 GHz TBoost)
Video
Intel HD 530 + Nvidia GTX 950M 4GB
Memory
32 GB DDR4 2133Mhz (2xDIMMs)
Storage
256 GB SSD (M.2 NVMe) + 1 TB 2.5″ HDD
Connectivity
Wireless AC Intel Tri-Band 8260 , Gigabit LAN, Intel Bluetooth 4.0
Ports
3x USB 3.0, 1x USB 3.1 (5 Gbps), HDMI, miniDP, mic/earphone, SD card reader, LAN, Kensington Lock
Baterry
48 Wh
Operating system
Windows 10
Size
415 mm or 16.3" (w) x 280 mm or 11.0" (d) x 33.2 mm or 1.3" (h)
Weight
3.17 kg or 6.98 lbs
Extras
white backlit keyboard, 2 frontal speakers, Blu-ray Combo
Design and exterior
On the outside, only a trained eye could tell how this N752 is different from the two N generations before, as these models share the same design lines, with a crude aluminum interior, a darker-colored brushed aluminum lid-cover, a plastic bottom and a silver keyboard.
In reality, the N752 borrows from both the N750 and the N751. First of all, it's slightly thinner and lighter than the N751, weighing 3.17 kilos (7 lbs) and measuring 33 mm (1.3″) in its thickest point. Second, it gets the lower body of the N750, with the rectangular aluminum case and the single screen hinge which spreads along most of the laptop's length. The cooling however is similar to the solution implemented on the N751, with the air being sucked through the keyboard and the small intake grill on the belly and pushed through the exhaust on the left edge.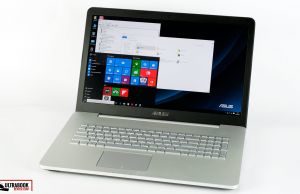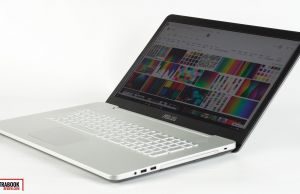 Regardless, you probably don't care much about how this laptop came to become what it is, but more about how it feels in daily use.
Opened up, this computer is really sturdy, with the keyboard area barely bulging even when pressed hard. The matte aluminum deck leaves plenty of space for your hands to lean on while typing, doesn't show smudges, and the top corners get a machine drilled design around the two front-facing speakers, a strong selling point for the N lines for many years now. My only nit is with the somewhat sharp front-edge, but since the laptop has a fairly slim profile and the edge is not as sharp as on other machines, it will probably not bother you much.
The hinge is strong and holds the screen properly in place. You'll definitely need both hands to lift it open though, and it only allows the display to lean back to around 145 degrees, which is enough for desk use, but might not suffice in some other less-common scenarios.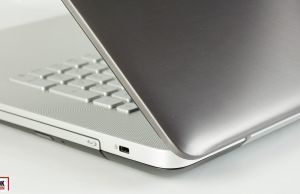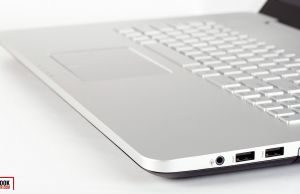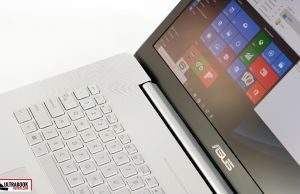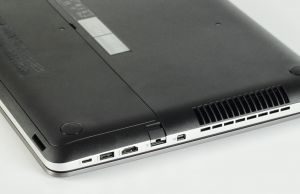 On the outside, the N752 feels like a premium machine, with the textured aluminum hood and the ripple effect around the backlit Asus logo. There's no way to turn it off, but the backlight is fairly dim, so should be accepted in most work environments. The sheet of metal on the lid is thin though, which means it flexes easily, but that doesn't seem to have an impact on the panel inside.
Moving on, while most of the laptop is made from metal, the underbelly is still a piece of rough plastic, which I'm perfectly fine with, as it feels strong. Going with this approach allows Asus to place a quick-access door to the internals, hold in place by a single screw, that offers easy access to the RAM slots and storage bays. You'll also notice the four rubber feet placed in the corners, a bit small for my liking, yet grippy enough to keep the laptop from sliding on a desk.
One final aspect to address here is the IO. All the ports are placed on the sides, and the right one is mostly clutter free, with the optical drive, two USB slots and the headphone-mic jack, plus a Kensington Lock. The left edge on the other hand gets the PSU, the exhaust, a miniDP port, the LAN connector, the HDMI output, another USB 3.0 slot and an USB 3.1 port which does not support Thunderbolt 3 speeds. The card-reader is placed on the front lip, where you'll also find the status LEDs, just beneath the trackpad, which are still annoying when trying to watch a movie in a dark room.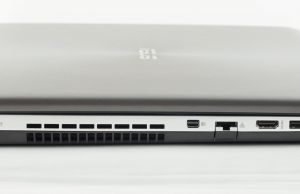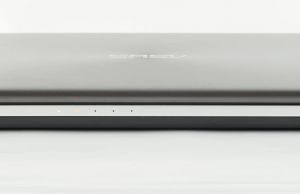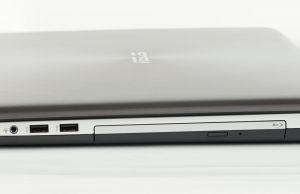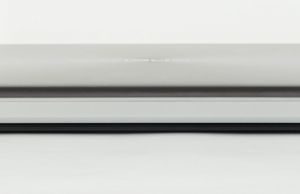 Regardless, I'm a fan of this arrangement. Yes, the video-out options are towards the front of the left side, so cables can get a bit obtrusive, but I'm happy that all the ports are accessible and that I get a clean right-side, so nothing will interfere with my mouse.
Bottom point, Asus did a solid job here both in terms of build-quality and ergonomics. As for the looks, while these are subjective to judge, I doubt many would have anything to argue against this N752.
Screen
Our test model came with a 17.3-inch UHD IPS screen, one of the better I've ever laid my eyes on.
It's a wide-gamut panel covering 100% of the AdobeRGB spectrum, and this aspect is corroborated with a measured 330 nits brightness (400 nits advertised) and deep contrast. The panel is also matte, so glare and reflections are not going to be a concern.
The numbers below speak for themselves.
Panel HardwareID: AU Optronics AUO109B (B173ZAN01);
Coverage: 100% sRGB, 100% NTSC, 100% AdobeRGB;
Measured gamma: 2.3;
Max brightness in the middle of the screen: 337 cd/m2 on power;
Contrast at max brightness: 700:1;
White point: 7000 K;
Black on max brightness: 0.48 cd/m2;
Average DeltaE: 2.15 uncalibrated, 0.98 calibrated .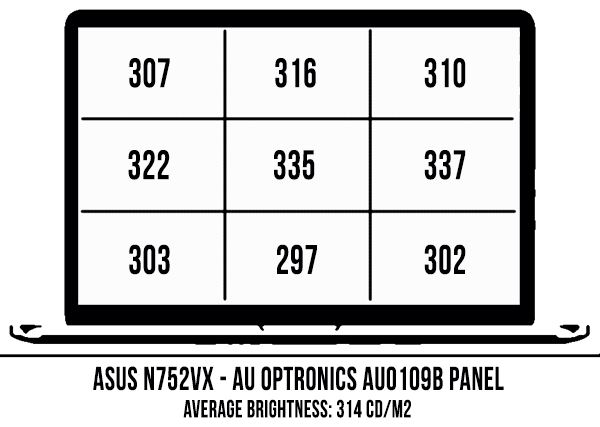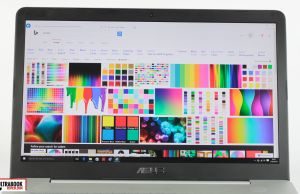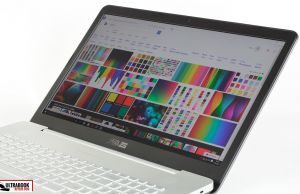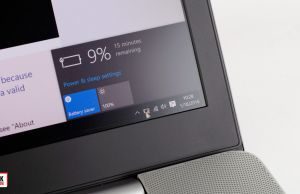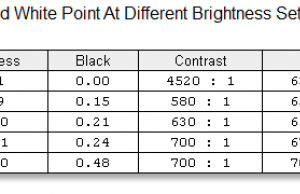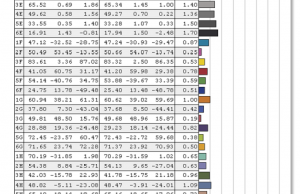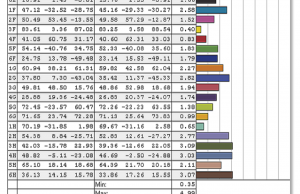 You probably noticed that the panel has a very slight blueish tint out of the box, so you should use our calibrated color profile to fix the White Balance, especially if you plan to do color accurate work on this computer. Or calibrate it yourself, of course.
Keep in mind that only the high-end configurations will be paired with this panel and it might not be the ideal pick for everyone, since it comes with a hefty price tag, it drains battery fast and it's not the best match for the Nvidia 950M chip inside this computer in games.
Asus also offers the N752VX with a FHD IPS panel, which is not as good (72% NTSC coverage, 300 nits – advertised), but might be a better choice if you don't actually need what the UHD option delivers.
Keyboard and trackpad
As for the keyboard, it types really well and took me very little time to get used to. The keys travel 1.8 mm inside the frame, which for me is around the ideal amount, and they also pose a firm resistance, so the feedback is spot on.
The layout is… OK, except for the squashed arrow keys and Num Pad area, plus the Power Button implemented as the top-right key. To be frank, I've never been a big fan of this layout that Asus continues to offer on most of their 15 and 17 inchers, but you will get used to it after a while.
Oh, and you probably notice that Asus still sticks with white-backlit silver keys on a silver body, which makes the writing on each key difficult to read while the illumination is active. Again, something you'll get used to, and even something professional typists won't probably even care about, but I just wish they'll learn the power of contrast. Perhaps some day…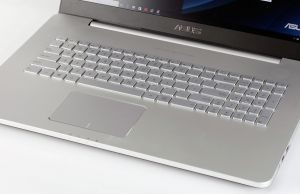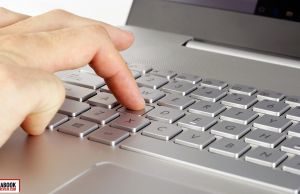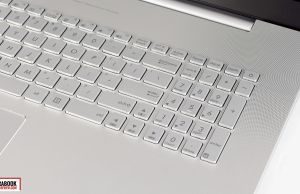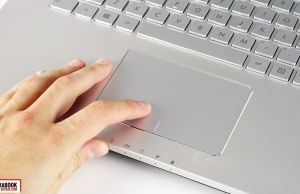 So not much has changed from the previous Ns in the keyboard department, and the same can be said about the trackpad.
The N752 gets a large plastic surface (or at least it feels like plastic to me), with beveled edges, so you'll easily find your way around, even in the dark. It's called an Asus Touchpad, but it's basically an ElanPad hardware with Asus's software stack on top, which lacks a lot in terms of customization options. So there's no way to adjust sensitivity or cursor speed, but at the end of the day, while the surface still skips gentle taps here and there and while physical clicks are clunky, this trackpad is not that bad overall.
Hardware, performance and upgrade options
Performance wise, the Asus N752VX is a really solid multimedia and all-round computer, but not something I'd recommend for gaming.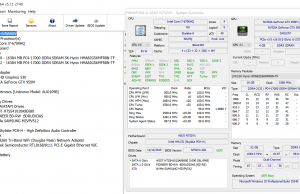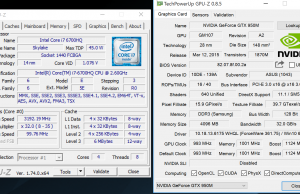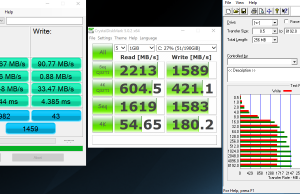 Like mentioned in the beginning, our test-model comes with an Intel Core i7-6700HQ processor, 32 GB of DDR4 memory, an NVMe 256 GB SSD for the OS and software, a 1 TB HDD for main-storage and an Nvidia GTX 950M 4GB graphics chip. This is the highest-end configuration available for the N752VX.
Lower end models can get a Core i5-6300HQ processor, 8 GB of RAM and skip the SSD drive, but since the RAM and the storage bays are easily accessible without jeopardizing warranty, you can perform upgrades yourself. The CPU and GPU are of course not upgradeable.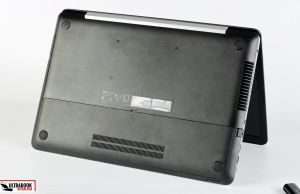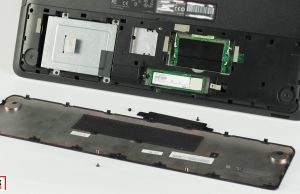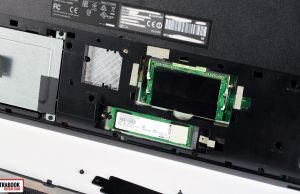 Now, due to this configuration, the test unit is a beast in daily use (browsing, watching movies, listening to music, editing documents, etc) or when dealing with programming software, virtual machines, video/photo editing software and other demanding apps.
I've ran a few benchmarks and the results are solid, some of the better I've recorded on any Core i7-6700HQ configuration so far.
3Dmark 11: P4543;
3Dmark 13: Cloud Gate – 14284, Sky Diver – 10286, Fire Strike – 2836;
PCMark 08: Home Conventional – 2919;
CineBench 11.5: OpenGL 62.06 fps, CPU 7.46 pts, CPU Single Core 1.60 pts;
CineBench R15: OpenGL 78.28 fps, CPU 676 pts, CPU Single Core 146 pts.
GeekBench 3: Single Core – 3564 , Multi Core – 12817;
x264 Benchmark 4.0 32-bit: Pass 1 – 156.4 fps, Pass 2 – 42.34 fps;
x264 Benchmark 5.0.1 64-bit: Pass 1 – 70.44 fps, Pass 2 – 15.09 fps.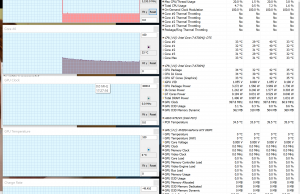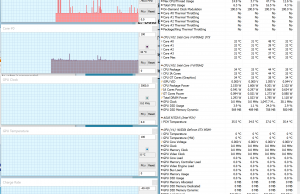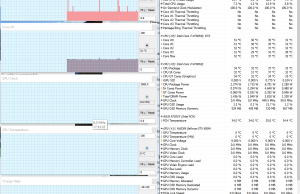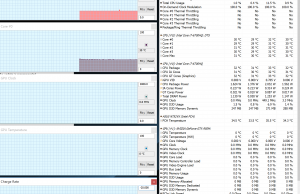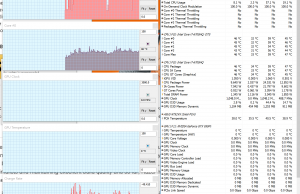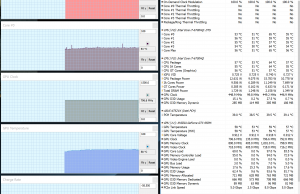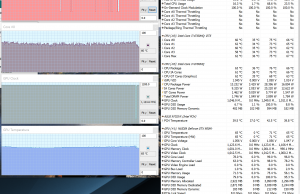 The GPU on the other hand can only do that much. It might benefit you in programs like Adobe Premiere, CAD or Maya to some extent, but it's not going to help much there and it's not very capable of handling games either, especially not on UHD resolutions, unless we're talking about really old titles. I've added some gaming results below.
FHD Low
FHD High
UHD Low
Bioshock Infinite
75 fps
46 fps
–
Farcray 4
37 fps
29 fps
12 fps
Grid Autosport
103 fps
60 fps
37 fps
NFS Most Wanted
60 fps
35 fps
20 fps
Shadow of Mordor
43 fps
27 fps
14 fps
Tomb Raider
115 fps
42 fps
35 fps
Now, the N752VW model will get an Nvidia GTX 960M chip, which is a somewhat faster solution, but still not something recommended for gaming at 4K, as you can see from this review of the Acer Aspire V17 Nitro. In fact, I'd hardly recommend anything but a GTX 980M for 4K gaming, and even that chip won't be able to handle the latest titles very well.
Bottom point, I wouldn't get an Asus N752 for gaming, not even one with a 1080P screen and the 960M graphics, unless it comes for an unbeatable price. You should have a look at the Asus GL752 and that Acer Aspire V17 Nitro before getting one anyway, if you don't absolutely want the crude-aluminum looks of the N series.
For daily use and most demanding chores though, this computer offers plenty for the money, especially since it runs cool, fairly quiet and shows no traces of throttling.
I've put it to stress to see how it fares in terms of temperatures and throttling. Pushing the CPU with Prime95 makes its frequency fluctuate between 2.8 and 3.1 GHz, which are both within TurboBoost limits. Pushing both the CPU with Prime95 and the GPU with Furmark causes the CPU to drop to around 2.6 GHz (with dips to 2.5 GHz, but never under this value), while the GPU runs at its stock speed for most of its time, with only occasional drops to lower frequencies for fractions of a second. You should analyze the two pictures below for more details.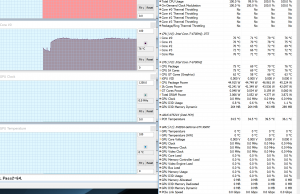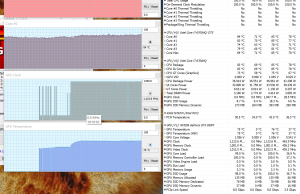 Noise, Heat, Connectivity, speakers and others
I have to admit I was pretty surprised by the low temperatures this thing reaches under load. The outercase temps are in the pictures below, while the inner temps are in one of the galleries before.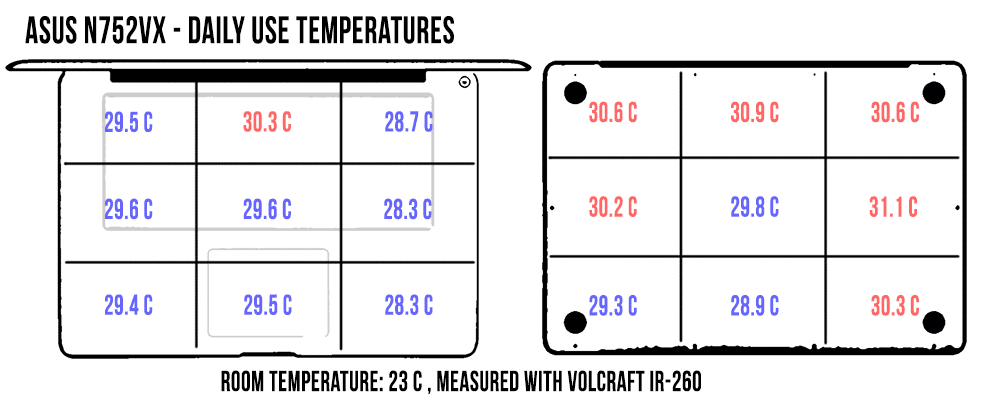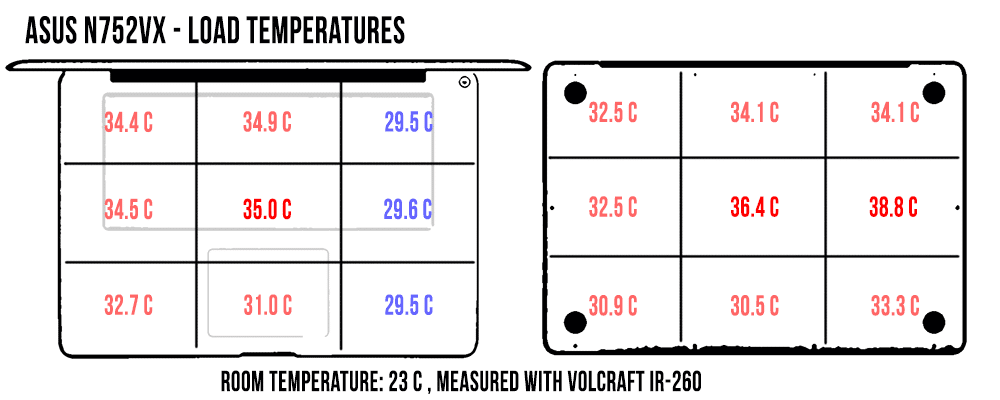 *Daily Use – 1080p Youtube clip in Edge for 30 minutes
*Load – playing Need for Speed Most Wanted for 30 minutes
As for noise, there's both a mechanical HDD inside the computer and a cooling fan, so the N752 is never completely quiet. The fan is also active all the time, but you'll more often hear the spinning mechanical HDD than the fan in daily use. The noise level measured with my iPhone app at head level is around 37 dB in daily use, with ambient noise measured at 33 dB (in a completely silent room). Take these numbers with a grain of salt, the app might not be very accurate.
Under load, the fan ramps up to around 40 dB in most games and a maximum of 42 dB in the CPU + GPU stress test. That means you'll hear it, but the speakers should easily cover the noise.
Now, I couldn't test the speakers on this review model because they were not working. This was however a pre-production sample, so you shouldn't have any concerns about the final retail units. One thing to keep in mind is the fact that there's no longer an external subwoofer included with this new N, as with the previous series, so while I do expect the speakers to be half-decent and punchy, they won't be able to deliver the same kind of bass.
Connectivity wise, there's Gigabit LAN, Bluetooth and Wireless AC on this computer. Asus went with an Intel TriBand 8260 Wi-Fi chip on our test model, which promises faster speeds at 5 GHz than the standard Dual-Band chips, when paired with appropriate routers. I don't have a 5 GHz router around for the time being, so I only tested the laptop on a 2.4 GHz connection, and it performed well near the router, but the speeds dropped to half at 30 feet with walls in between. So nothing impressive, but again, I don't have the right router to properly benchmark this tri-band Wi-Fi chip.
Battery life
There's only a 48 Wh battery on this laptop, which seems to be a trend for Asus lately: make lighter devices by sacrificing battery life, something I'm not at all happy with. They had a 56 Wh battery on the N751 and a 69 Wh battery on the N750.
Yes, the hardware gets more efficient, but the expected battery life does not improve, especially not when you pair the computer with a hungry UHD wide-gamut screen. As a result, here's what you'll get from the N752VX:
It's worth noting that this Asus is still far more efficient than the Acer V17 Nitro tested a while ago, with a similar display and configuration. But there's only that much you can expect from a 48 Wh battery.
The laptop is bundled with a massive 120 Wh power brick and a full-recharge takes a little over 2 hours and 15 minutes.
Price and availability
The Asus N752VX will hit the stores around the world in the next few weeks, with prices starting at roughly $1100 (1100 EUR over here) for a base configuration that includes a Core i7-6700HQ processor, 8 GB of RAM, a 1 TB HD, the Nvidia GTX 950M graphics with 2 GB of VRAM and the FHD IPS display.
Configurations with the Core i5-6300HQ processor might be available for as low as $1000, but only in select regions, while the N752VW models with Nvidia 960M graphics will sell for $50 to $100 more than a similarly specked VX, if available withing your region.
The high-end configuration tested here, with the UHD panel, 16 GB of RAM, Blu-Ray player, the Nvidia GTX 950M 4GB chip and a 512 GB NVMe SSD sells for around 1700 EUR, so probably around $1700-$1800 in the US.
These are all based on the limited info I have right now, when the computer is still not listed in shops. I'll update the section once more details are available, but you should follow this link for updated configurations and prices at the time you're reading this post.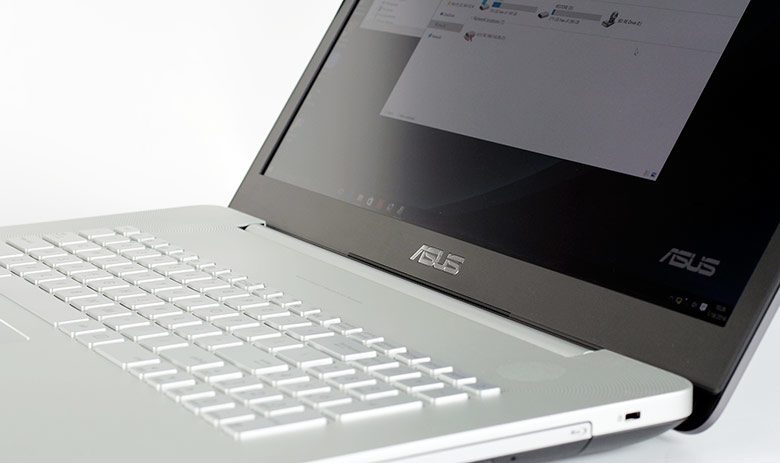 The Asus N752VX sells for between $1100 and $1700 at launch, but will probably get cheaper down the line
Wrap-up
At the end of the day, Asus did a pretty good job with this laptop. It feels sturdy, looks nice, it gets a solid IO, a decent keyboard and trackpad, an excellent display and performs exceptionally well in daily use and demanding tasks, while remaining cool and quiet.
My only major complaint is with the 48 Wh battery, small for a 17-inch laptop of this caliber. It helped Asus create a lighter and marginally thinner computer, but I would have preferred if they kept it at 3.4 kilos and put a large battery inside. It's not like a 3.15 kilos device is that much more portable anyway. Still, that's just me, the average battery life might not be a concern to you.
So, knowing all these, is the N752VX worth buying? Well, there are two cases to discuss here.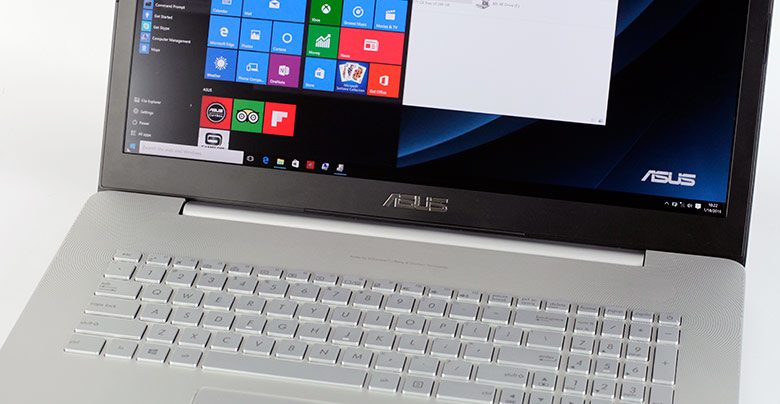 Asus did a great job with the N752VX, but unless you wan the top-tier configuration, you might find better value for your money in other 17-inchers
For one, we have to look at the high-end configuration with the UHD wide-gamut display, an option for professionals and those that would benefit from that screen. It goes for around $1700 and the only real competitor is the Acer V17 Nitro Black Edition, which matches it in price, is thinner and gets Nvidia 960M graphics, but lacks support for NVMe storage, is more difficult to upgrade, runs hotter and doesn't look as premium, albeit personally I prefer its black rubbery feel. So I'd call it a tie between the two, both being good buys.
On the other hand, if you don't need the superior screen, $1700 could get you a 970M gaming laptop, or even a 980M configuration if you opt for an older Haswell hardware platform. You'll find more details about 970M and 980M powered ultraportables in this post.
The second case regards the base-level model, where the N752VX doesn't necessarily offer as much for the money as some of the other 17-inchers out there. $999 can get you a Core i7-6700HQ processor and Nvidia 960M graphics these days on devices like the Asus ROG GL752, the Acer Aspire V17 Nitro Black Edition, the Lenovo Y700 or the MSI GE72, while in comparison the N752 with the same CPU and Nvidia 950M graphics is expected to sell for around $1100. You'd be paying extra for the aluminum build, the IO and the NVMe support, but these might not compensate the downgrade in graphics performance for some of you. So make sure you know what you want and choose accordingly.
We'll end this post with that in mind, but get in touch in the comments if you have anything to add or any questions about the Asus N752VX or other similar devices, I'm around to help out if I can.
Ноутбук Asus VivoBook Pro N752VX
Ноутбуки ASUS VivoBook Pro представляют собой мощные и инновационные устройства, открывающие перед пользователями новые возможности для работы с мультимедийными данными. Мощный процессор, современная видеокарта игрового класса и невероятно четкий экран формата 4K/UHD делают ASUS VivoBook Pro N752 прекрасным выбором для любителей мультимедийных развлечений. Дополняет его возможности технология ASUS SonicMaster, включающая программные инструменты ICEpower®, которая обеспечивает беспрецедентное для мобильных компьютеров качество звука.
Ноутбук ASUS N752 создан на базе высококачественных компонентов, обладающих отменной производительностью. Мощный четырехъядерный процессор Intel® Core™ i7 шестого поколения, видеокарта игрового класса NVIDIA® GeForce® GTX™ 950М и новейшая операционная система Windows 10 обеспечивают быстродействие на уровне настольного ПК. А твердотельный накопитель объемом до 512 ГБ с интерфейсом PCIe x4, обладающим скоростью чтения/записи до 1500 МБ/c и 12 гигабайт оперативной памяти DDR4 делают мгновенным отклик системы на действия пользователя.
Видео Обзоры (5)
Обзор ноутбука ASUS N752VX ➔ Тестирование универсального ноутбука Asus N752VX в играх
Экспресс обзор ноутбука ASUS N752VX GC276T
Видео обзор ноутбука Asus VivoBook Pro N552VX
Экспресс-обзор ноутбука ASUS VivoBook Pro 17 N705UN-GC109
Обзор и вскрытие игрового ноутбука Asus N552VW (N552VX-FY033T; аналог N552VX-FI032T)
Характеристики (22)
| Параметр | Значение |
| --- | --- |
| Частота процессора | 2600 |
| Размер экрана | 17.3 |
| Разрешение экрана | 1920 |
| Веб-камера | да |
| Тип видеоадаптера | встроенная |
| Тип видеопамяти | GDDR3 |
| Размер видеопамяти | 4096 |
| Размер оперативной памяти | 12 |
| Количество слотов памяти | 2 |
| Объем накопителя | 1000 |
| Оптический привод | DVD±RW |
| Беспроводное соединение | Wi-Fi |
| Bluetooth | да |
| Подсветка клавиатуры | да |
| Количество интерфейсов USB 3.0 | 3 |
| Выход HDMI | да |
| Вход аудио | да |
| Вход микрофонный | да |
| Ширина | 415 |
| Глубина | 280 |
| Толщина | 12 |
| Вес | 3.2 |
Отзывы (2)
Гловацкий Антон — 22 Января 2017
никогда больше не куплю ничего от Асус. такая политика взаимодействия с Майкрософт противоречит интересам клиента.
Недостатки:
Модель не работает с другими ОС кроме Win 10 .
При этом нигде не предупреждают об этом, что в модели зашиты ограничения по пользованию. Предустановлена при покупке Виндоус10 , но на практике 90% населения планеты отказывается пользоваться этой версией, и ставят нормальную 7-ку. Более того, в мире существует огромное количество узко профессионального софта, который в принципе не запускается на новом 10-м виндоус. А некоторым пользователям надо работать на этом софте каждый день.
В результате, при попытке поставить 7-ку на данный аппарат, часть оборудования просто не работает, в частности SSD диск и тачпад. На тачпад просто не существует драйверов на любые версии кроме 10-ки. Перепробовал даже драйвера других производителей. Кстати часть оборудования подключилась именно чужими дровами.
— В результате заплатив 100тр за по идее класную новую машину, получил ужасно медленную тупящую на 7-ке , с неработающим тачпадом, и SSD диск, за который переплатил 12-15тр просто не работает.
— в комплекте нету диска или флешки с драйверами, автоматом не запускаются даже USB гнезда.
— достаточно тяжелый в сравнении с другими моделями. я надеялся что надежность бренда это компенсирует. лучше бы что угодно другое взял.
Период использования: менее месяца
Анонимно — 25 Февраля 2017
Конкретные модели значительно отличаются характеристиками, моя — N752VX-GB273T, основное отличие от остальных — UHD, он же 4K, экран.
В целом оценка должна быть 4.5, но раз на Яндекс.Маркете таких нет, то пусть будет 5.
Как водится, вместе с Windows производитель установил кучу ненужного софта. Если соберётесь переустанавливать систему:
1) На системном диске есть папка eSupport с драйверами и утилитами, скопируйте её на вспомогательный диск перед переустановкой. После установки системы запустите eSupporteDriverAsInsWiz.exe и установите всё, некоторые утилиты необязательны, но мусора здесь нет. Также можно найти всё необходимое на сайте ASUS, но это менее удобно.
2) Прежде чем идти на торрент-трекеры имейте ввиду, что у вас есть лицензия Win 10 Home, можете скачать образ с сайта Microsoft. Ваш К.О.
Достоинства:
1) 17.3'' UHD экран с отличной цветопередачей.
2) Высокая производительность.
3) Красивый и стильный, без кричащего декора как у тру-игровых ноутбуков.
4) ИМХО лучший вариант раскладки клавиатуры для ноутбука. Клавиатура имеет подсветку с регулируемой яркостью, можно совсем отключить. Клавиши приятно шершавые.
5) 2 диска: большой HDD и быстрый SSD. Форм-фактор SSD разъёма — M.2 Type 2280 M Key.
6) 4 USB порта, один из них USB 3.1 Type-C.
7) Удобный тачпад, ощутимо лучше чем на старом ASUS N73SV.
8) Linux установился практически без проблем, большинство специальных функций (подсветка клавиатуры, управление тачпадом и т. д.) заработали сразу.
9) Неплохой звук, для ноутбука конечно 🙂
Недостатки:
1) В моей модели был SSD 128 Гб, по современным меркам это впритык, сразу же поменял на 512 Гб.
2) Производительности достаточно, чтобы запустить любую современную игру, но конечно на максимальные графические настройки не стоит рассчитывать. Также не рассчитывайте на игру в 4K разрешении, fps ниже комфортного, лучше играть в 1920×1080 с высокой детализацией, чем в 3840×2160 с низкой.
3) Не все приложения идеально работают в 4K разрешении, в некоторых то текст слишком мелкий, то наоборот элементы управления слишком большие, то шрифты не очень чёткие. Таких приложений немного, но они есть, в будущем этот недостаток должен практически исчезнуть.
4) Драйверов для Windows 7 нет ни на дисках ноутбука, ни на сайте ASUS. Скорее всего установка Windows 7 превратится в пляску с бубном, но лично не проверял.
5) В моей модели 12 Гб RAM, две планки 4 + 8 — это ни туда и ни сюда. Апгрейд возможен, но лучше бы сразу было 16 Гб или больше.
Ноутбук asus vivobook pro n752vx обзор
Информация на сайте, в т.ч.: описание, технические характеристики составлено ООО «Компьюлан». Использование данного материала, частично или целиком, на сторонних сайтах разрешено только при прямой ссылке на страницу сайта, с которой была взята информация.
Вся информация, опубликованная на сайте www.kns.ru, в т.ч. цены товаров, описания, характеристики и комплектации, извещения об оформлении, а так же обработке заказа не являются публичной офертой, определяемой положениями Статьи 437 Гражданского кодекса РФ и носят исключительно справочный характер. Договор заключается только после подтверждения исполнения заказа сотрудником КНС.
Нашли ошибку на сайте? Выделите ее на странице, нажмите Ctrl+Enter и отправьте нам. Будем Вам очень признательны!
Источник https://www.ultrabookreview.com/9913-asus-n752vx-review/
Источник https://cmp24.ru/p/479156-noutbuk-asus-vivobook-pro-n752vx
Источник https://www.kns.ru/product/noutbuk-asus-n752vx-90nb0ay1-m02530/otzyvy/
Источник