MSI GL72 6QF Xotic PC Edition Notebook Review
Note: We reviewed a configuration from Xotic PC U.S. There can be differences compared to original manufacturer models in respect of the integrated components (memory, RAM, CPU, GPU, etc.) as well as their configurations. Components may have been overclocked. As a result, there can also be differences in terms of performance, emissions, and battery runtimes. The visual appearance of the devices can differ as well.

The MSI G Series holds some of the best gaming notebooks you can get in a 17.3-inch form factor. Its extreme performance comes at a cost, however, especially when considering that the new GT72S can easily run over $2000 USD. It's only natural for MSI to trim off features to lower prices to more affordable levels. Thus, the MSI GE, GP, and GL Series were born to allow gamers on smaller budgets to purchase powerful hardware without all the bells and whistles.
The entry-level GL Series is the most affordable in MSI's gaming lineup starting at just under $1000 USD. As expected, the GL72 shares many similarities with the GE72 albeit with some missing extras to save on costs. To the target audience, however, it's the core gaming performance that will matter most. Considering the price, is this the best gaming notebook you can get with a GTX 960M GPU?
Main competitors in the affordable 17.3-inch gaming market include the Acer Aspire V Nitro, Lenovo Ideapad Y700, and Asus GL771.
Intel Core i7-6700HQ NVIDIA GeForce GTX 960M
Gaming — 03/16/2016 — v5
Visually, the chassis is almost indistinguishable from the GE72. Small differences include the removal of the decorative red striping underneath the hinges and on the front edge for an all-black look. The brushed aluminum surfaces of the GE72 are also simply matte black plastic on the GL72 and are much more prone to fingerprints and grease. In essence, it's an overall duller look to reflect the system's tail end position in the MSI G Series hierarchy.
While its appearance may be uninspiring, quality thankfully feels very similar to the GE72. The base is resistant to twists and does not creak with applied force. Weak spots include the center areas of the keyboard where visible warping will occur when pushing down on the surface. The lid is also of just average rigidity as we are able to twist it from the front corners and push down on the center of the outer surface with moderate force. Fortunately, none of the system's weaknesses are alarming enough to seriously affect the overall stability of the chassis. The small hinges are stiff enough to prevent rocking when typing and allow for a very wide angle close to 180 degrees.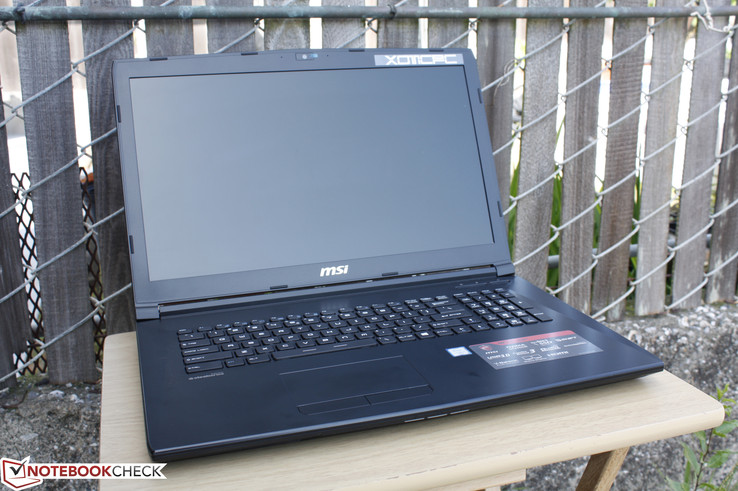 In terms of size and weight, the GL72 is thicker than many of its competitors including the pricier GE72 that its chassis is based on. The Predator 17 and GT72 are both larger, but can be equipped with faster GPUs in return. The system is relatively light for its size class at about 2.8 kg, which is even lighter than the much thinner Gigabyte P37X.
428 mm / 16.9 inch
294 mm / 11.6 inch
48 mm / 1.89 inch
423 mm / 16.7 inch
322 mm / 12.7 inch
40 mm / 1.575 inch
420 mm / 16.5 inch
287 mm / 11.3 inch
37 mm / 1.457 inch
420 mm / 16.5 inch
288 mm / 11.3 inch
32 mm / 1.26 inch
423 mm / 16.7 inch
305 mm / 12 inch
27.95 mm / 1.1 inch
414 mm / 16.3 inch
279 mm / 11 inch
36 mm / 1.417 inch
423 mm / 16.7 inch
296 mm / 11.7 inch
25 mm / 0.984 inch
419 mm / 16.5 inch
280 mm / 11 inch
29 mm / 1.142 inch
417 mm / 16.4 inch
287 mm / 11.3 inch
23 mm / 0.906 inch
Connectivity
Available ports are identical to the recent GE72 6QF including the newly added USB 3.1 Type-C port. This is only a Gen. 1 port, however, so don't expect Thunderbolt 3 compatibility or full compatibility with Gen. 2 docking stations. Three full-size USB ports is sill on the low side considering the size of the notebook. There are no ports on the rear and most are on the left-hand side of the system, so right-handed users will face much less clutter as a result.

Front: No connectivity

Right: Optical drive, USB 2.0, SD reader, AC adapter

Rear: No connectivity

Left: Kensington Lock, Gigabit Ethernet, 2x USB 3.0, HDMI-out, Mini-DisplayPort, USB 3.1 Type-C Gen. 1, 3.5 mm microphone, 3.5 mm earphones
Communication
WLAN and Bluetooth are provided by the Killer 1535 wireless-ac M.2 adapter that's commonly found on other high-end gaming notebooks. We experienced no notable connectivity or dropout issues during our time with the GL72.
Accessories
Included extras are light outside of the Warranty card and Quick Start guide. Xotic PC sells branded accessories and offers paint/etching services for another layer of customization.
Maintenance
While the GT and GS series of notebooks are relatively easy to access, the GL72 is a bit trickier and tighter around the edges. Nonetheless, a simple Philips screwdriver is all that is needed to remove the bottom panel. Users are granted direct access to the M.2 2280 SSD, M.2 2230 WLAN module, 2.5-inch SATA III bay, and both SODIMM slots. The GPU is integrated instead of using an MXM 3.0b slot as on the much more expensive MSI GT72 series.
Warranty
MSI offers up to 24-month limited warranty and 12 months of accidental damage protection to those who register their purchases. Any modifications done by Xotic PC will be covered by the reseller for up to one year. Optional coverages include dead pixel protection and warranty extensions up to a total of three years.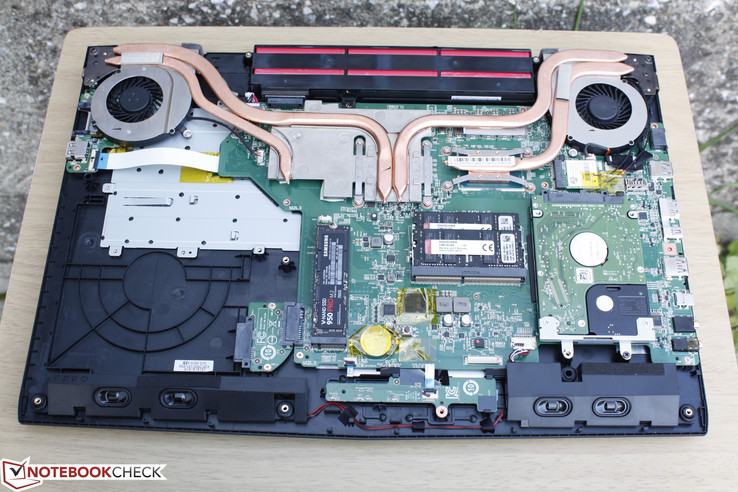 Input Devices
Keyboard
Like on other MSI G Series notebooks, the GL72 uses a SteelSeries Chiclet keyboard with the same font and secondary Fn keys. This time, however, there are fewer auxiliary keys (only Control Manager and Turbo Fan) compared to the GT series and no backlight option at all, so the cut corners are already quite obvious. Key travel is also shallow for a very light feel when typing. Nonetheless, feedback is on the soft side and with little clatter. The keys themselves are firm and do not wiggle in place.
Touchpad
11 x 6 cm) is exactly the same as the one on the GE72 without the brushed aluminum surface. Its smooth glide makes multi-touch gestures easy to use and without any major issues. Other 17-inch gaming notebooks like the Predator 17 offer touchpads of about the same surface area.
The two dedicated mouse keys are shallow in travel with a loud and firm feedback when clicked. They only require a light amount of force to push and are comfortable to use for extended periods if a mouse is not available.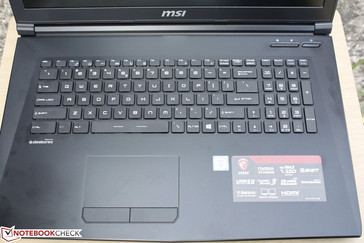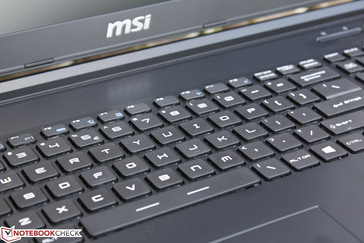 Display
The screen is a 1080p TN panel as opposed to an IPS panel as found on many costlier gaming and multimedia machines. While contrast levels are good at just under 800:1, maximum brightness is quite low at under 200 nits compared to 300+ on competing 17.3-inch machines. A quick search for its Chi Mei N173HGE-E11 panel name shows that similar displays are also used for the MSI GE72 and GS70, both of which show just average backlight brightness levels as well.
Subjectively, color temperature is much too cool out-of-the-box and in dire need of calibration. Perhaps this was only specific to our test unit, but we still recommend our ICC profile below to at least alleviate the overly blue grayscale. Backlight bleeding is relatively uniform except at the bottom two corners of the screen. The bottom or top halves in general can be brighter or dimmer relative to the viewing angle of the user since this is a TN panel.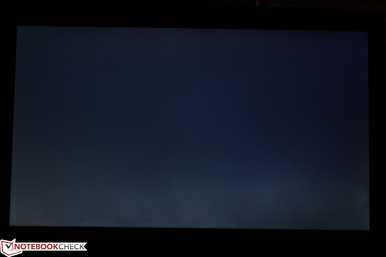 Slightly uneven backlight bleeding around bottom corners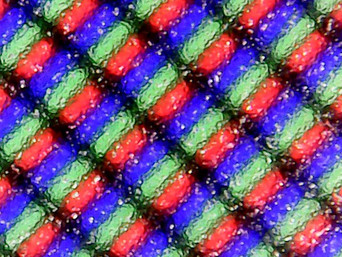 Subpixel array
* . smaller is better
Color coverage is about 60.8 percent and 95.3 percent of AdobeRGB and sRGB standards, respectively. The high sRGB coverage is indicative of a high-end panel with deep colors, which only become apparent after calibration in our particular case. Thus, gamut volume is similar to that of many of its competitors including the Asus GL771 and pricier Acer Predator 17.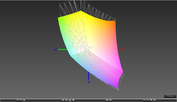 vs. Asus GL771JW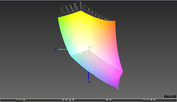 vs. Acer Predator 17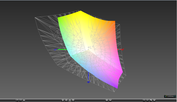 vs. AdobeRGB
The outrageously cool color temperature leads to more inaccurate colors and grayscale than other notebooks as shown in our X-Rite measurements below. Calibration dramatically fixes these issues to bring grayscale and colors to overall excellent levels while flattening the RGB Balance. Colors will still become increasingly more inaccurate at higher saturation levels due to imperfect sRGB coverage.
Subjectively, it's worth noting that the ghosting on the display leaves a red trail that is most apparent when moving a white window with black text. The black text would simply become a gray blur on most other LCD panels, but the text blurring on our GL72 unit is much more red under the same conditions.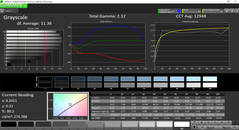 Grayscale pre-calibration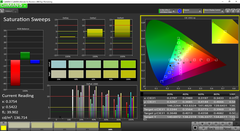 Saturation Sweeps pre-calibration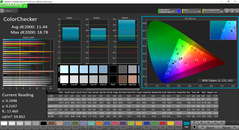 ColorChecker pre-calibration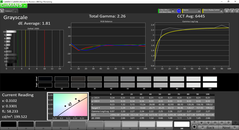 Grayscale post calibration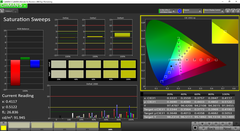 Saturation Sweeps post calibration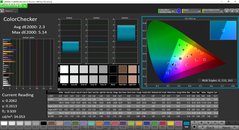 ColorChecker post calibration
Display Response Times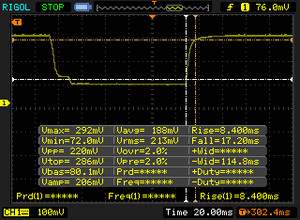 Screen Flickering / PWM (Pulse-Width Modulation)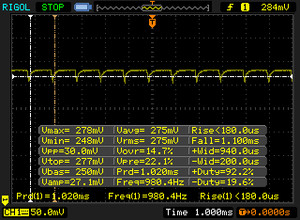 The display backlight flickers at 980.4 Hz (Likely utilizing PWM) Flickering detected at a brightness setting of 99 % and below. There should be no flickering or PWM above this brightness setting.
The frequency of 980.4 Hz is quite high, so most users sensitive to PWM should not notice any flickering.
In comparison: 52 % of all tested devices do not use PWM to dim the display. If PWM was detected, an average of 14780 (minimum: 5 — maximum: 2500000) Hz was measured.
Outdoor visibility is below average due to the low maximum brightness of the matte display. Content is washed out under direct sunlight and already a bit dark if working under shade. The hinges fortunately allow for a very wide angle to reduce as much glare as possible, but this advantage is offset by the fact that the TN panel severely limits wide viewing angles.
Speaking of viewing angles, the sole user looking straight at the display will not see major color shifts. Viewing from the side will reduce relative brightness while viewing from below the normal will significantly degrade colors and grayscale as expected.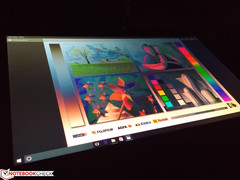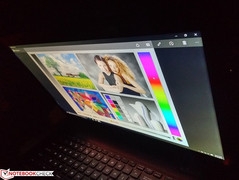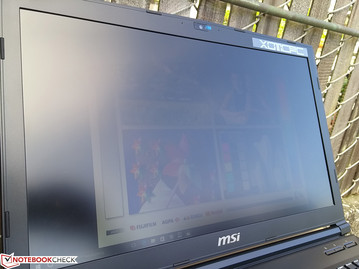 Outdoors under shade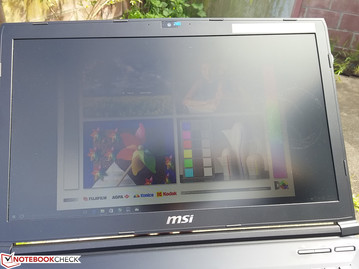 Outdoors under direct sunlight
Performance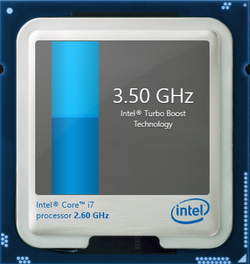 Turbo Boost up to 3.5 GHz for single-threaded processes
The current configuration at the sub $1000 price point is equipped with the Core i7-6700HQ and GTX 960M GPU. This same processor option exists on most other gaming notebooks including flagship models with much more powerful GPU options. Turbo Boost is supported up to 3.1 GHz for all active cores, though our stress tests show that the system is unable to reliably maintain this maximum when under extreme stress.
The Nvidia GPU VRAM has been factory overclocked from 5010 MHz to 5410 MHz. Its base clock rate is otherwise standard for a GTX 960M at 1097 MHz plus Boost for even higher speeds when appropriate.
System RAM is provided by two DDR4 SODIMM modules for a total of 16 GB with support for up to 32 GB.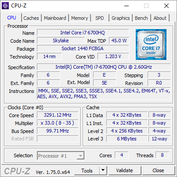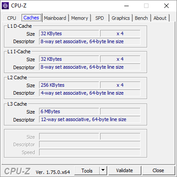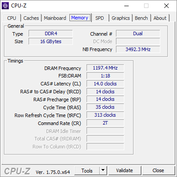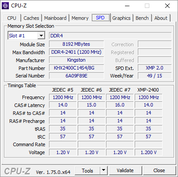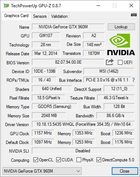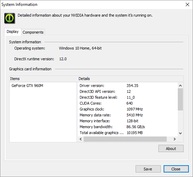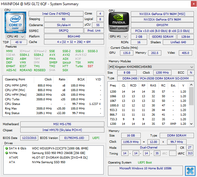 Processor
CPU performance is just a few percentage points above that of a Haswell i7-4700HQ and essentially neck-to-neck with the Broadwell i7-5700HQ. Multi-core performance is actually a hair slower than the i7-5700HQ as the GL72 is only able to sustain a maximum multi-core Turbo Boost of 2.9 GHz compared to the rated 3.1 GHz for this particular Skylake CPU. The desktop i7-6700K offers up to 15 to 30 percent faster performance over the i7-6700HQ at over two times the TDP (45 W vs. 91 W).
See our dedicated CPU page on the Core i7-6700HQ for more technical data and comparisons.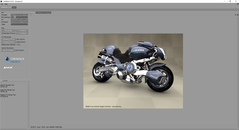 CineBench R10 32-bit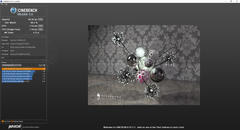 CineBench R11.5 64-bit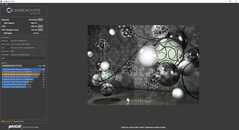 CineBench R15
* . smaller is better
System Performance
PCMark benchmarks rank the GL72 in the same ballpark as other competing gaming systems of similar configurations if not slightly higher. We experienced no software or hardware issues during our time with the Xotic PC test unit.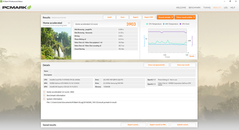 PCMark 8 Home Accelerated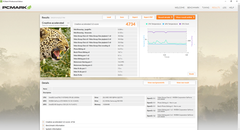 PCMark 8 Creative Accelerated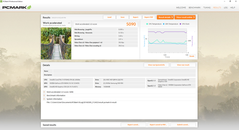 PCMark 8 Work Accelerated
Storage Devices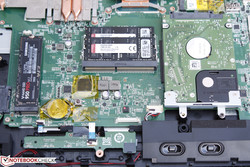 Two internal storage bays are available in the form of 1x M.2 and 1x 2.5-inch SATA III. The optical drive can also be easily removed to hold a third 2.5-inch drive if necessary.
Surprisingly, the GL72 comes standard with an NVMe SSD and, in our case, it's the 256 GB Samsung SSD 950 Pro. Even a few pricier gaming notebooks are still limited to SATA III drives like the Acer Predator 17 and Asus G752, so the GL72 has a huge advantage in its price category in terms of transfer rates as shown in the table below. Our secondary 7 mm 1 TB WD Blue HDD returns an average transfer rate of just over 89 MB/s according to HD Tune, which is quite fast considering that it's a 5400 RPM drive.
See our growing comparison list of HDDs and SSDs for more benchmarks.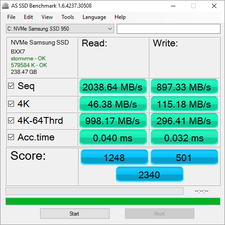 AS SSD (Samsung SSD 950 Pro)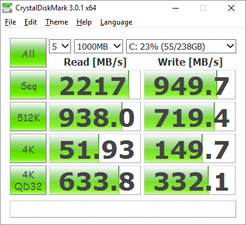 CDM (Samsung SSD 950 Pro)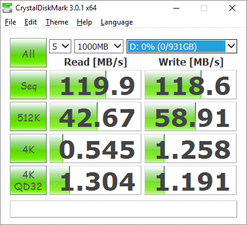 CDM (WDC HDD)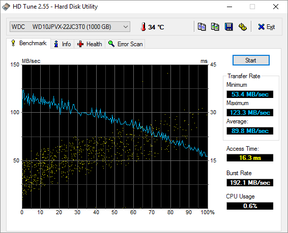 HD Tune (WDC HDD)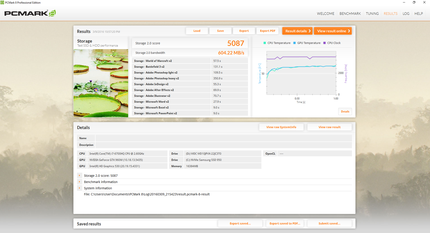 PCMark 8 Storage
* . smaller is better



GPU Performance
Raw GPU power according to 3DMark benchmarks is slightly ahead of the similarly equipped Asus Zenbook UX501, which is at least partially attributed to the overclocked memory on our GL72 configuration. Otherwise, the system sits firmly between the GTX 950M and GTX 970M in raw performance as expected. The jump from the 960M to the 970M is quite large and prompted Nvidia to relaunch a stronger version of the GTX 965M earlier this year to fill in this gap.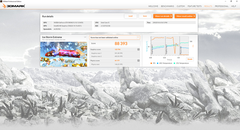 Ice Storm Extreme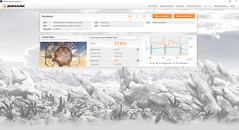 Cloud Gate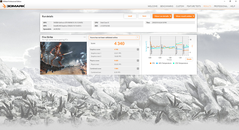 Fire Strike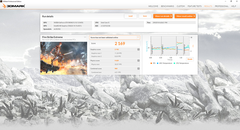 Fire Strike Extreme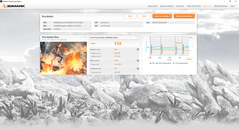 Fire Strike Ultra
Gaming Performance
Real-world performance in games is again slightly better than the average GTX 960M. In this case, the new Dell XPS 15 9550 returns consistently slower frame rates than our GL72 in all tested games despite carrying the same i7-6700HQ CPU and GTX 960M GPU. In Dell's case, however, its GPU is slower in both base clock rate (1032 MHz vs. 1097 MHz) and memory clock rate (5010 MHz vs. 5410 MHz) than our MSI configuration.
Users can expect to be able to play the latest demanding titles at the native 1080p resolution and on Medium to High settings with frame rates hovering 30 FPS. Batman: Arkham Knight crashed when applying our Ultra settings, so its results are left blank in the table below.
See our dedicated GPU page on the GTX 960M for more benchmarks and comparisons.
low
med.
high
ultra
BioShock Infinite (2013)
133.5
120.2
49.9
fps
Metro: Last Light (2013)
109.4
79
34.3
fps
Thief (2014)
69.3
58.8
29.7
fps
Batman: Arkham Knight (2015)
65
33
fps
Fallout 4 (2015)
59.2
33.6
26.4
fps
Rise of the Tomb Raider (2016)
64.8
34.6
25.6
fps
Stress Test
The GL72 holds up very well even when under extreme stress with no throttling. Its CPU maintains a consistent Turbo Boost of 2.9 GHz when under Prime95 stress, which is 200 MHz slower than its rated maximum for all active cores. Running both Prime95 and FurMark simultaneously will cause the CPU and GPU to run at a constant 2.5 GHz and 1163 MHz, respectively, with core temperatures hovering in the low 70 C range. This should allow for ample GPU overclocking headroom with the included MSI Afterburner software.
Both the CPU and GPU will run Unigine Heaven at higher clock rates and lower core temperatures. Note that activating the Turbo Fan option will not necessarily increase raw performance, but will instead reduce the core temperatures of the CPU and GPU even further. The feature isn't imperative when gaming as core temperatures are already quite acceptable. Users may only notice small gains in CPU power when under very high processing stress with this feature active.
Running on battery power will limit both CPU and GPU performances. A 3DMark 11 run on batteries returns Physics and Graphics scores of 6830 and 4519 points, respectively, compared to 9099 and 5825 points when on mains.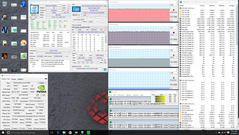 Prime95 stress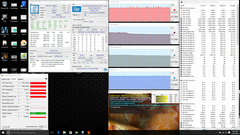 FurMark stress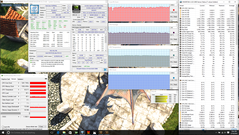 Unigine Heaven Stress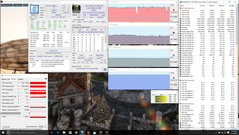 Unigine Heaven Stress (Turbo Fan on)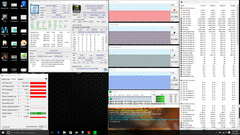 Prime95+FurMark stress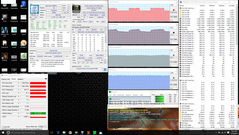 Prime95+FurMark stress (Turbo Fan on)
Emissions

System Noise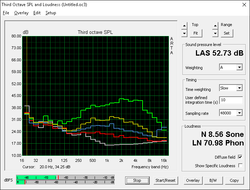 Fan noise (Gray: Background, Red: System idle, Blue: Unigine Heaven, Yellow: Prime95 + FurMark, Green: Turbo Fan)
The cooling system consists of twin 50 mm fans and four heat pipes for the CPU, GPU, and VRAM modules. It's very roomy in the sense that there is considerable space between the heat pipes and PCB compared to other thinner systems with the same GPU like on the Acer Aspire Nitro VN7 or XPS 15. The cooling potential of the GL72 is quite proficient as shown in our stress test results above.
The downside to the factory overclocking and generally low core temperatures is the high fan noise. We were able to record fan noise of just above 35 dB(A) even when sitting idle on desktop and on the Power Saver profile. Competing gaming notebooks tend to settle in the much lower 30 dB(A) range against a silent background reading of 27 or 28 dB(A). In other words, get used to hearing a constant whir from the GL72 whenever it is powered on. On the bright side, the fans will not pulsate during everyday browsing or multi-task use, which would have made the system even more annoying.
When under gaming or Unigine Heaven loads, the MSI is not any louder or quieter than competing models and sits comfortably in the middle. Note that activating the Turbo Fan will bump fan noise to 56 dB(A), which can be distracting to others nearby and is too loud for comfortable gaming without a pair of headphones.
Ноутбук MSI GL72 6QF
Процессор: Core i7,Частота процессора: 2600 МГц,Объем оперативной памяти: 8 ГБ,Объем жесткого диска: 1000 ГБ,Диагональ экрана: 17.3 «,Видеокарта: NVIDIA GeForce GTX 960M,Вес: 2.8 кг,Оптический привод: DVD-RW,4G LTE: нет,Bluetooth: есть,Wi-Fi: есть
Магазины, в которых можно купить Ноутбук MSI GL72 6QF
Ноутбук MSI GL72 6QF-698RU (9s7-179586-698)
впечатления о Ноутбук MSI GL72 6QF
Пока работал с задачами справлялся
Звук, экран Замена батареи, жесткого диска или ОЗУ требует снятия задней крышки. Все встроено на мат. плату, сложная диагностика и ремонт, дорогостоящий ремонт — одноразовость аппарата.
Ноутбук игровой MSI GL72 6QF-403RU
приобрел его совсем не давно. Успел попробывать на нем КС го, БФ 4 — высокие настройки — проблем нет. в кс — 120 фпс, в бф — 60 фпс. греется но не сильно, достаточно шустрый. для сетевых игр — идеален, для всех других то же. Внешний вид — очень крут.
Достоинства:
Легкий, не толстый, производительный, не горячий.
Период использования: менее месяца
Makarenko Nikolay — 7 Июня 2016
i7, 16Gb, 960//// приобрел его совсем не давно. Успел попробовать на нем КС го, БФ 4 — высокие настройки — проблем нет. в кс — 120 фпс, в бф — 60 фпс. греется но не сильно, включаем турбо обдув 2 вентика стабильно держат температуру на видяхе 55-60. достаточно шустрый. для сетевых игр — идеален, для всех других то же. Внешний вид — очень крут.
Достоинства:
Легкий, производительный, не горячий.
Период использования: менее месяца
Яковлев Евгений — 13 Сентября 2016
Ноут не идеальный. Я дизайнер , подбирал машину для высокой производительности с 3d графикой . Из того небольшого ассортимента на рынке мощных машин до 100 тысяч ,методом исключения выбрал именно этот ноут. Производительность впечатляет,но совсем упустил из виду качество экрана. На пятилетнем,домашнем бюджетном мониторе такой же тип матрицы "TN" и он меня устраивает полностью , поэтому закрыл глаза на эту характеристику, но оказалось зря. Цветопередача ужаснейшая . Если вы дизайнер или художник ,категорически не рекомендую. Советую обратить внимание на этот же ноут других серий. Только позже увидел обзор в нете , где объясняется разница между сериями GL,GP и т.д. Оценка корпуса наверно дело субъективное , он никакой . Маркий ,гладкий пластик ,который легко царапается, задняя крышка снимается целиком, что неудобно. В общем ноут специфический , как есть — это игровая серия , тупо играть и не обращать внимания на такие мелочи , как корпус и цветопередача. Но я дизайнер и выбрал железо , с ним здесь полный порядок + внутри присутствует слот для SSD : M.2 PCI Express 3.0 x4 . Это самый скоростной и современный интерфейс на сегодня. Поставил его без проблем. Для геймеров думаю ноут на 5+ . Я ставлю 4 с большим минусом.
Достоинства:
Современное железо. Матовый экран , с большой диагональю. Не жужжит , не греется. Внутри слот для SSD M.2 PCI Express 3.0 x4
Недостатки:
Качество экрана , цветопередача ужасная. Отсутствие подсветки клавиатуры . Маркий , гладкий корпус. Задняя крышка снимается вся целиков ,что не удобно. Батарея . Камера наверно тоже не очень.
Источник https://www.notebookcheck.net/MSI-GL72-6QF-Xotic-PC-Edition-Notebook-Review.161014.0.html
Источник https://obzornov.ru/noutbuk-msi-gl72-6qf
Источник https://cmp24.com.ua/p/88374-noutbuk-igrovoy-msi-gl72-6qf-403ru
Источник