Acer Aspire E5-573G Notebook Review

For some years, Acer has been offering affordable 15.6-inch all-rounders within its Aspire E1 and E5 series. Although the various models have not achieved top ratings in our test, we could always confirm the good price-performance ratio. Acer now presents the successor of its E5-571G , the Aspire E5-573G. Not only have the innards been updated, the casing has also been revamped completely. Our report reveals whether the Aspire is compelling.
There is no lack of low-priced all-round laptops. Virtually every manufacturer has at least one corresponding line in its portfolio, and thus the Aspire faces many rivals. We would, for example, name the HP Pavilion 15, the Toshiba Satellite L50-B, the Lenovo Z50-75, and the Dell Inspiron 15.
Acer Aspire E5-573G-5785
Intel Core i5-5200U NVIDIA GeForce 940M
Multimedia — 07/20/2015 — v4
Like its various precursors, the Aspire is encased in a plastic casing. The display bezel and base unit's upper side feature a dark-gray color ("Charcoal Black"), and the base tray and lid's back are black. In addition, the lid's back, base tray and base unit's upper side are textured. The laptop does not have a maintenance hatch; the casing has to be opened for accessing the hardware.
The casing does not exhibit any major manufacturing flaws. A minor protrusion of material on the base unit's front edge would be noteworthy. It has not been trimmed completely. The stability does not give much reason for complaint. The casing can be dented slightly on both sides of the keyboard and below the touchpad — but this is common in most laptops. However, in our opinion the base unit could be slightly more robust. The same is true of the lid. It exhibits image distortions when trying to warp it or pressing against its back. With some finger dexterity, it is possible to open the lid with one hand.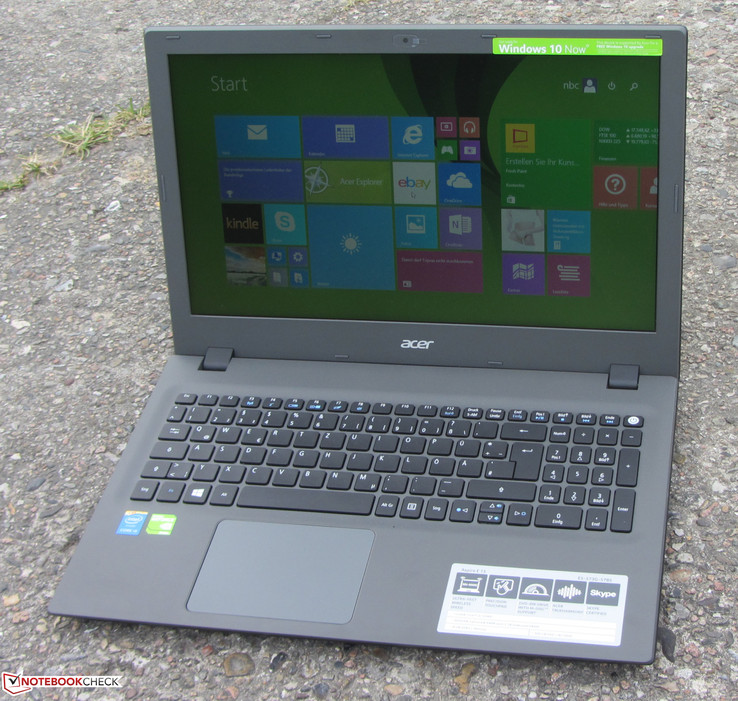 Connectivity
The interface diversity and positioning correspond to that of the Aspire V3-574G. This is not surprising since both laptops feature identical innards. Acer has opted for a selection that we find in most laptops. Two of the three USB ports support the USB 3.0 standard. Most ports are on the left on the same level as the wrist rest. Consequently, the area beside the wrist rest will not remain free of cables.

Left: Kensington Lock slot, VGA-out, Gigabit-Ethernet, HDMI, 2x USB 3.0, combo audio

Right: USB 2.0, DVD burner, power socket

Memory card reader on the front
Communication
The installed Wi-Fi module also includes Bluetooth 4.1. In addition to the 802.11 a/b/g/n Wi-Fi standards, the Qualcomm chip (QCA9377) supports the high-speed ac standard. The connection between laptop and router was never interrupted, and was always stable at a distance of 15 meters (
49 ft) around the router. The Aspire can also boast with one of the most popular Gigabit-Ethernet chips: A model from Realtek's RTL8168/8111 family. As always, the chip performed impeccably.
Accessories
The laptop comes with usual documents as well as a quick start poster and safety information.
Operating System
The Aspire is shipped with Windows 8.1 (64-bit) preloaded. A recovery DVD is not included.
Maintenance
Since the laptop does not have a maintenance hatch, the casing has to be opened for maintenance/upgrading. First, the optical drive has to be removed. Then, all screws on the underside have to be released. After that, the base tray can be loosened with, for example, a putty knife. This has to be done carefully because the clips can break easily. Care is also needed when removing the base tray: The speakers are mounted on the base tray and connected to the motherboard via a cable. The laptop's innards feature two working memory banks that are both filled. The hard drive is easy to exchange. The Aspire is equipped with the same motherboard and battery model as that of the Aspire V3-574G.
Warranty
Acer includes a two-year warranty on the Aspire, including pick-up service. Extending the warranty is possible. For example, a three-year warranty costs around 60 to 70 Euros (
Input Devices
Keyboard
Acer has installed an unlit chiclet keyboard in the Aspire. Users who appreciate a backlit keyboard should look at the Aspire V3-574G that uses the same keyboard unit, but with a backlight. The flat, slightly roughened keys of the E5-573G provide a short drop and clear pressure point. The keyboard rocked a little while typing on it, but that did not have any adverse effects. Acer has a very decent keyboard in its portfolio that will certainly satisfy demands that go beyond home use.
Touchpad
The multitouch ClickPad in the Aspire has a size of approximately 10.6 x 7.8 cm (
4.2 x 3.1 in). Thus, there is enough room for using gesture controls. The texture used on the base unit's upper side is not extended to the ClickPad. Instead, the fingers will find a smooth surface that does not prevent them from gliding. The pad has a short drop and clear pressure point.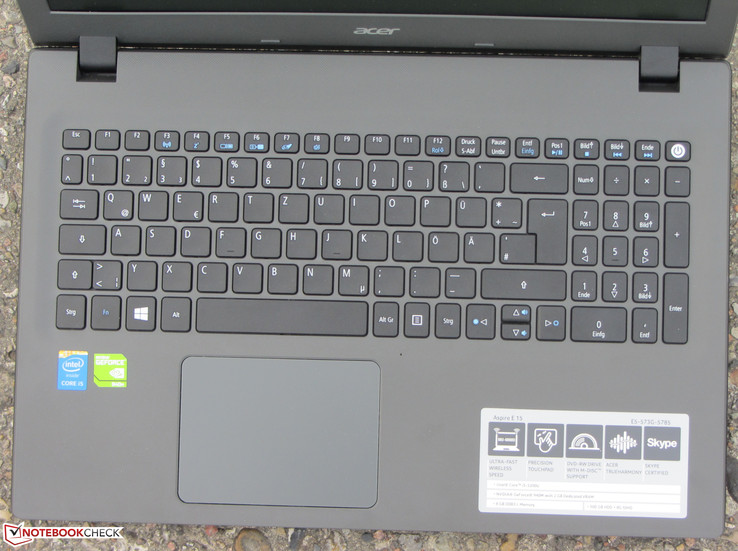 Input Devices
Display
The Aspire is equipped with a matte, 15.6-inch screen that has a native resolution of 1366×768 pixels. Neither the screen's brightness (230.7 cd/m²) nor the contrast (381:1) are impressive, and both should be better. Although the Aspire E5-573G series is essentially a low-cost laptop, nowadays we expect better rates even in this sector. A brightness of 250 cd/m² and contrast of 500:1 should be the minimum.

Aspire vs. sRGB


Aspire vs. AdobeRGB
The Aspire's screen cannot display either the sRGB or AdobeRGB color space. The coverage rates are 60% (sRGB) and 38% (AdobeRGB). The screen has a DeltaE 2000 deviation of 10.51 in delivery state, which is a normal rate in the low-price sector. The target would be a rate less than 3. The screen also has a distinct bluish tint.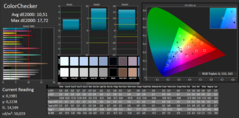 CalMAN — ColorChecker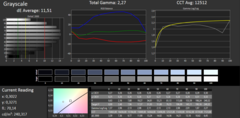 CalMAN — Grayscale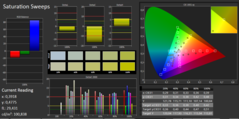 CalMAN — Saturation Sweeps
Acer has installed a viewing angle dependent TN screen in the Aspire, and thus the screen cannot be read from every position. Changing the vertical viewing angle quickly leads to image distortions. It looks better horizontally, and even several people can look at the screen at the same time. The Aspire can be used outdoors, but the sun should not be too bright because the screen's brightness is dimmed in battery mode.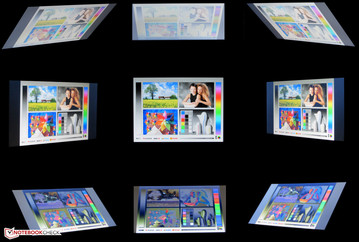 Viewing angles: Aspire
The Aspire outdoors
* . smaller is better
Performance
Acer offers affordable 15.6-inch all-round laptops within its Aspire E5-573G series. Our review sample is one of the highest performance models of the range. It has enough computing power for everyday use, and can render games smoothly. Acer also offers versions without a dedicated graphics core. Since our review sample was not listed in any of the common price search engines at the time of testing, we cannot confirm a retail price although it will probably be between 600 and 700 Euros (
$773) based on the other versions of the E5-573G.









Processor
The Core i5-5200U processor powers the Aspire. It is a mid-range CPU from Intel's latest Broadwell processor series. The TDP of this CPU is 15 watts. The processor clocks at a base speed of 2.2 GHz, which can be boosted to 2.5 GHz (both cores) and 2.7 GHz (one core) via Turbo. The CPU performed our tests at its base speed (2.2 GHz) in battery mode. The Broadwell processor has an average of 10% lead when comparing the test outcomes of the Core i5-5200U with that of its Haswell precursor (Core i5-4200U). This is primarily due to the improved Broadwell architecture since the work speeds of both CPUs are virtually identical.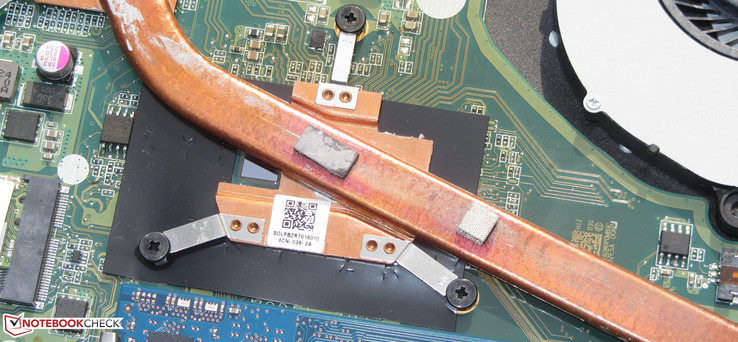 The processor is soldered
* . smaller is better
System Performance
The system runs smoothly; we did not encounter any problems. The PCMark benchmark scores are very good. The Aspire performs better than other laptops based on a comparable CPU-GPU configuration. This is due to the installed hybrid hard drive (a conventional hard drive with built-in SSD cache). The system performance could only be improved by replacing the hard drive with a solid-state drive. Laptops with a quad-core processor are not really an alternative for the Aspire. Not only do they not provide any advantage in routine use, they require more energy and cooling. Nor should their higher price be ignored. A quad-core processor would only exhibit its higher performance in CPU-driven applications.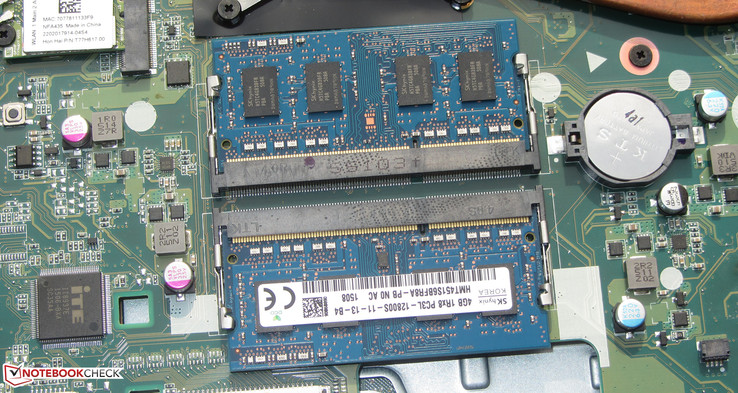 Two working memory banks are installed
Storage Device
The Aspire is equipped with a hybrid hard drive from Seagate for storing data. It has a capacity of 500 GB and spins with 5400 revolutions per minute. In addition, an SSD cache is built into the hard drive (8 GB) ensuring the fast loading of frequently used applications. CrystalDiskMark recorded a read speed of 107.2 Mbps, and HD Tune delivered an average transfer rate of 89.3 Mbps. These are good rates for a 5400-rpm hard drive.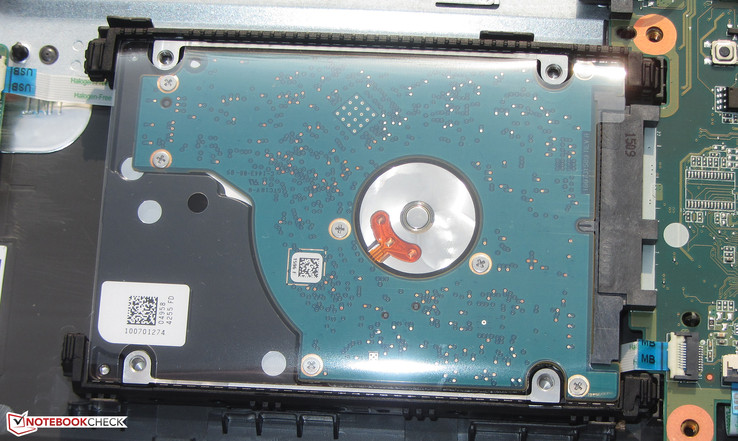 Replacing the hard drive is no problem


Graphics Card
In addition to the mid-range processor, a mid-range GPU, GeForce 940M is installed in the laptop. The former Aspire E5-571G that we have previously tested featured the same processor as our current review sample. The graphics core was the precursor of the GeForce 940M graphics core — the GeForce 840M. Therefore, a performance comparison would make sense here because the processors do not have a major impact. The 3DMark benchmark results differ only by a few percent. However, this is not surprising: Both GPUs are based on Nvidia's Maxwell architecture, and their maximum speeds (1124 MHz vs. 1176) are very close. Consequently, there is no compelling reason to switch to a GeForce 940M laptop. A less expensive GeForce 840M laptop would suffice.
The GeForce graphics core in conjunction with Intel's HD Graphics 5500 GPU forms a graphics switching solution (Optimus). Nvidia's core is enabled in performance-demanding applications, such as computer games. Intel's GPU is responsible for routine tasks and battery mode. Switching between the cores is automatic and the user does not have to intervene.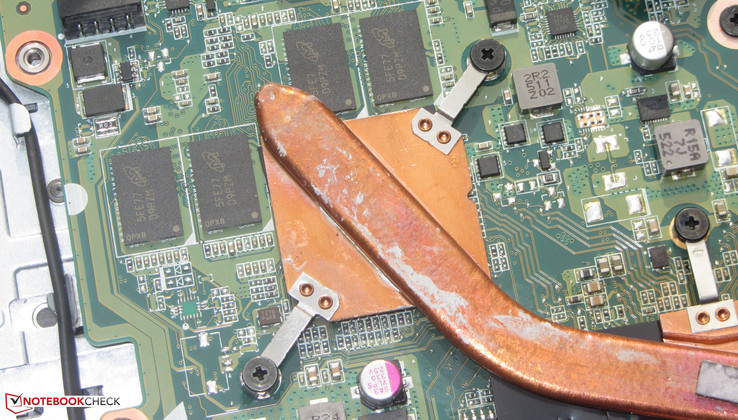 2048 MB of DDR3 memory supports the GPU
Gaming Performance
The CPU-GPU configuration of the Aspire can render many games smoothly using the HD resolution (1366×768 pixels) with medium to sometimes high quality settings. For instance, the Full HD resolution via an external monitor is possible with only a few games. The lower the game's hardware requirement, the more likely it is. The resolution/quality level has to be reduced in some games in order to achieve a playable frame rate. We would mention "The Witcher 3" and "Assassin's Creed: Unity" here. The hardware is not powerful enough for the game "Batman: Arkham Knight".
Since the Aspire only manages somewhat higher frame rates than a GeForce 840M laptop, the buyer can confidently take a device based on the latter and save money. Considerably higher frame rates go hand in hand with a higher price. Laptops equipped with a GTX 850M/GTX 950M core or GTX 860M/GTX 960M core would be alternatives here.
low
med.
high
ultra
Crysis 3 (2013)
41.6
24.6
18.6
7.3
fps
Tomb Raider (2013)
138.5
68.3
37.1
19.1
fps
Thief (2014)
40.8
26
21.1
11.4
fps
Watch Dogs (2014)
43.6
31.7
9.9
6.1
fps
Sims 4 (2014)
172.2
89.1
41.8
34.2
fps
The Crew (2014)
41.4
32.8
16.1
8.8
fps
Dirt Rally (2015)
192.2
48.9
24.3
12.5
fps
The Witcher 3 (2015)
32.2
19.2
10.5
6.2
fps
Emissions
System Noise
The Aspire does not produce an excessive amount of noise. The fan spun at very low speeds while idling. It was never inactive. However, it was only audible in quiet environments. The noise level climbed up to 43.1 dB(A) during the stress test. This level is acceptable in view of the hardware configuration.
Noise Level
* . smaller is better
Temperature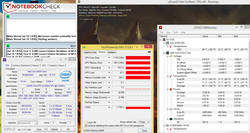 The Aspire in the stress test
As mentioned earlier, the same motherboard including heatsink/fan is inside the Aspire as in the recently reviewed Aspire V3-574G. Consequently, both devices behave in very much the same way during the stress test. The E5-573G performed the stress test (Prime95 and FurMark run for at least one hour) in a similar manner in both AC and battery mode. The graphics core clocked at full speed in AC mode (1176 MHz). This was also the case in battery mode, but it regularly throttled to 293 MHz abruptly. The processor's speed fluctuated between 500 MHz and 2.5 GHz (AC mode) and 2.2 GHz (battery mode). The temperature development of both Aspire models is also very similar. Both laptops exceeded 60 degrees Celsius (
140 degrees Fahrenheit) on the measuring point in the proximity of the vent. Otherwise, the temperature increase was moderate. Such high temperatures will normally not be reached in routine use.
* . smaller is better
Speakers
Acer has placed the speakers on the laptop's underside. Their sound is neither a positive nor a negative surprise. They are average speakers that produce an overall decent sound. It is possible to listen to them even for prolonged periods.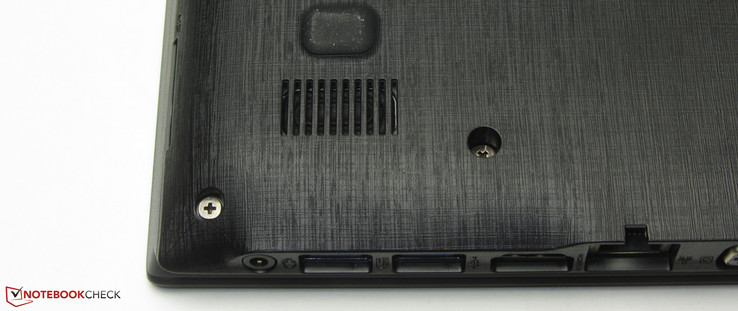 The speakers are on the underside
Energy Management
Power Consumption
The Aspire does not have an excessively high-energy requirement. Its idle power consumption climbed up to 7 watts — a good rate. The power consumption fluctuated in the stress test because the processor recurrently throttled for a short time. The maximum of 58 watts cannot be criticized. Rates of around 44.5 watts (+/- 5 watts) should be expected in gaming routine. The power supply has a nominal output of 65 watts. The Aspire V3-574G needed slightly more power because it is equipped with a higher resolution screen.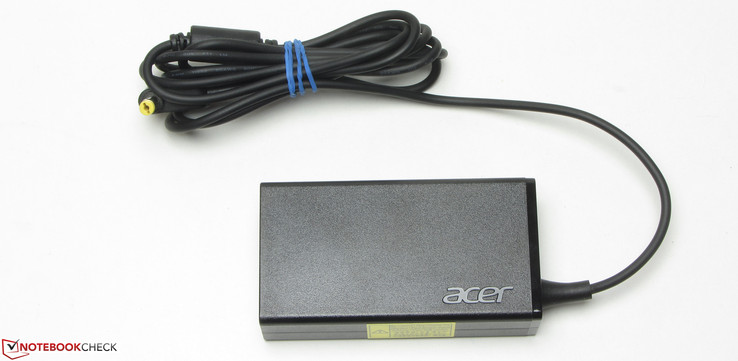 The power supply has a nominal output of 65 watts
* . smaller is better
Battery Runtime
The Aspire achieved an idle runtime of 12:11 hours. HP's Pavilion 15-p008ng (8:41 h) shuts down earlier. Idle mode is determined by Battery Eater's Reader's test using minimum screen brightness, enabled energy saving plan, and disabled radio modules. The Aspire shut down after 1:52 hours of load. The Pavilion (1:40 h) is depleted a bit sooner. The load runtime is determined by Battery Eater's Classic test using maximum screen brightness, enabled high-performance profile, and enabled wireless modules.
Acer's laptop stopped our real-world Wi-Fi test after 5:47 hours. Again, the Pavilion (4:45 h) lags behind. This test simulates opening websites using the "Balanced" profile, and a screen brightness of approximately 150 cd/m². We checked the video playback time by running the short movie "Big Buck Bunny" (H.264 encoding, 1920×1080 pixels) in a loop. The wireless modules are off, and the screen's brightness is set to approximately 150 cd/m². The Aspire lasted 5:57 hours. The Pavilion managed a runtime of 4:47 hours.
The Aspire's battery life cannot be criticized. Although satisfactory, they are disappointing compared with that of the former Aspire E5-571G. Acer has installed a battery with a considerably lower capacity in its E5-573G (37 Wh vs. 56 Wh).

The battery can be removed; it is not fastened with screws
Характеристики Acer ASPIRE E5-573G-58ST
Характеристики Acer ASPIRE E5-573G-58ST с операционной системой Windows 10: дискретная видеокарта NVIDIA GeForce 920M 2048 МБ, которая имеет видеовыходы: порт VGA (D-Sub), порт HDMI. Есть динамики и встроенный микрофон. Имеется встроенная web-камера , замок Kensington.
В ноутбук Acer ASPIRE E5-573G-58ST встроен сетевой адаптер LAN 1000 Мбит/с, модуль Wi-Fi 802.11n, модуль Bluetooth 4.0, а вот 4G LTE не поддерживается, модуль WiMAX не установлен, нет поддержки GPRS, 3G не поддерживается, EDGE не поддерживается, не поддерживается HSDPA.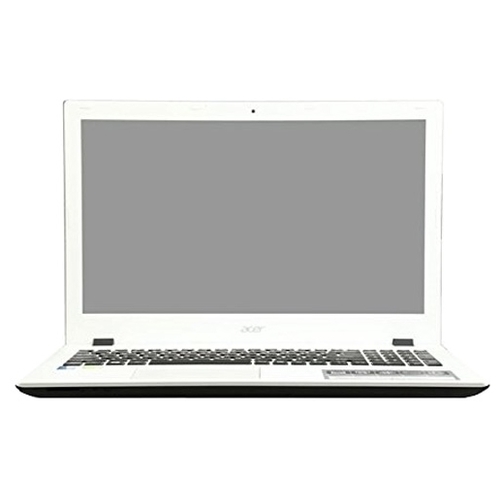 Тип Acer ASPIRE E5-573G-58ST
Тип
ноутбук
Ultrabook
Экран Acer ASPIRE E5-573G-58ST
Разрешение экрана
1920×1080
Диагональ экрана
15.6
Широкоформатный экран
Тип покрытия экрана
матовый
Сенсорный экран
Мультитач-экран
Светодиодная подсветка экрана
Видео Acer ASPIRE E5-573G-58ST
Тип видеокарты
дискретная
Видеокарта
NVIDIA GeForce 920M
Объем видеопамяти
2048 МБ
Поддержка 3D
Две видеокарты
Процессор Acer ASPIRE E5-573G-58ST
Процессор
Core i5
Частота процессора
1700 МГц
Количество ядер процессора
2
Ядро процессора
Haswell
Объем кэша L2
512 Кб
Объем кэша L3
3 Мб
Память Acer ASPIRE E5-573G-58ST
Оперативная память
4 ГБ
Тип памяти
DDR3L
Максимальный объем памяти
16 ГБ
Количество слотов памяти
2
Скорость вращения
5400 об/мин
Устройства хранения данных Acer ASPIRE E5-573G-58ST
Тип жесткого диска
HDD
Объем жесткого диска
500 ГБ
Интерфейс жесткого диска
Serial ATA
Карты памяти Acer ASPIRE E5-573G-58ST
Слот ExpressCard
Поддержка SD
Звук Acer ASPIRE E5-573G-58ST
Вход аудио
Вход микрофонный
Выход аудио/наушники
Вход микрофонный/выход на наушники Combo
Выход аудио цифровой (S/PDIF)
Наличие колонок
Наличие сабвуфера
Наличие микрофона
Беспроводная связь Acer ASPIRE E5-573G-58ST
Wi-Fi
Стандарт Wi-Fi
802.11n
Bluetooth
Версия Bluetooth
4.0
4G LTE
3G
Порты и интерфейсы Acer ASPIRE E5-573G-58ST
Встроенная сетевая карта
Макс. скорость адаптера LAN
1000 Мбит/с
Количество интерфейсов USB 2.0
1
Количество интерфейсов USB 3.0 Type A
2
Интерфейс USB 3.0 Type-C
Интерфейс USB 3.1 Type-C
Интерфейс FireWire
Интерфейс FireWire 800
Интерфейс eSATA
COM-порт
Выход VGA (D-Sub)
Выход mini VGA
Выход DVI
Выход HDMI
Выход micro HDMI
Выход DisplayPort
Выход Mini DisplayPort
Дополнительная информация
Установленная ОС
Windows 10
Операционная система подробно
Windows 10 Home
Оптический привод
DVD-RW
Подключение к док-станции
Устройства позиционирования
Touchpad
GPS
ГЛОНАСС
Веб-камера
Сканер отпечатка пальца
ТВ-тюнер
Пульт ДУ
Слот для замка Kensington
Стилус
Ударопрочный корпус
Влагозащищенный корпус
Аккумулятор Acer ASPIRE E5-573G-58ST
Емкость аккумулятора
2520
Количество ячеек батареи
4
Тип аккумулятора
Li-Ion
Параметры и вес Acer ASPIRE E5-573G-58ST
Вес
2.4
Длина
381.6
Ширина
256
Толщина
29.2
Acer ASPIRE E5573G58ST отличается качественной сборкой и очень стильным дизайном. Компьютер будет отлично чувствовать себя у вас в сумке, рюкзаке, портфеле, на столе во время важной презентации.
Acer ASPIRE E5-573G-58ST имеет полноценную клавиатуру, выглядит меньше своих одноклассников, при этом начинен ультрасовременными компонентами, что в совокупности позволяет ему блестяще работать. В устройстве нет ничего лишнего – только все самое необходимое. Параметры Acer ASPIRE E5-573G-58ST просто отличные — есть все необходимые разъемы для подключения периферии.
В ноутбуке Acer ASPIRE E5-573G-58ST установлена видеокарта последней модели, позволяющая одновременно работать сразу с несколькими графическими ресурсами.
Ноутбук acer aspire e5-573g-58st обзор
Информация на сайте, в т.ч.: описание, технические характеристики составлено ООО «Компьюлан». Использование данного материала, частично или целиком, на сторонних сайтах разрешено только при прямой ссылке на страницу сайта, с которой была взята информация.
Вся информация, опубликованная на сайте www.kns.ru, в т.ч. цены товаров, описания, характеристики и комплектации, извещения об оформлении, а так же обработке заказа не являются публичной офертой, определяемой положениями Статьи 437 Гражданского кодекса РФ и носят исключительно справочный характер. Договор заключается только после подтверждения исполнения заказа сотрудником КНС.
Нашли ошибку на сайте? Выделите ее на странице, нажмите Ctrl+Enter и отправьте нам. Будем Вам очень признательны!
Источник https://www.notebookcheck.net/Acer-Aspire-E5-573G-Notebook-Review.146740.0.html
Источник https://notebookov.ru/tech-notebook-Acer-ASPIRE-E5-573G-58ST/
Источник https://www.kns.ru/product/noutbuk-acer-aspire-e5-573g-58st/otzyvy/
Источник